The Sunday Post is a weekly post hosted by Kimba the Caffeinated Reviewer. It is a chance to share all the news and highlights on your blog for the past and upcoming weeks. Head over to Kimba's for details and to link up!
Welcome back! Hope everyone had an eventful week. It was a big week at that. I personally am glad the election and all the drama surrounding it is over! I would much prefer to see Christmas commercials even this early in November as opposed to negative political ads. I am thankful that Oregon is a mail in ballot state. Makes voting so convenient! Can you believe that Thanksgiving and the holiday season kick off in two weeks!? Yikes! 
Alright enough babbling on to blogging news!
Have you checked out Candace's Confident Reads meme? She highlights indie reads and authors and recommends indie books that you can read with confidence. I appreciate her picking through the haystack to find the shimmering needles for us. This past week she had a whole list of good solid indie reads. Be sure to check it out!
We are still taking sign ups for Fire and Ice! Check out all the details here. Be sure to email your hostess and get a date. We would love to have you be a part of this exciting and fun event!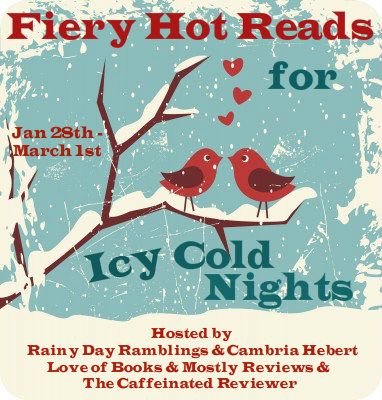 Here on Rainy Day Ramblings this past week, it was a bit quieter but still busy. I have plenty of contests open, many of the Something Wicked Giveaways will be ending soon so be sure to get in your last minute entries click here.
Monday: Review of Daniel Mark's Velveteen and The Charade Read Along.
Tuesday: Tell Me Something Tuesday was back and I shared books that I read during October and books I am planning on reading. What about you? I also posted a guest post from author Daniel Marks and a giveaway for a signed copy of Velveteen.
Wednesday: ALBI Tour Post and Giveaway. This was a wicked good read, a four novella compilation together in one book. Four different view points revolving around a murder! Very original!
Thursday: Ten by Gretchen McNeil Review.
Friday:Guest Post with Gretchen McNeil and Int. Giveaway for Ten and Friday Forecast
Saturday: Third Grave Dead Ahead by Darynda Jones Review
Also be sure to check out my review, guest post and giveaway for Chloe Jacobs Greta and the Goblin King today!
This week for review I received:
Wow! A few more books than I anticipated! 
Next week on the blog I will have:
Monday: Luminosity by Stephanie Thomas Tour Stop Review and Giveaway and the Charade Read Along
Tuesday: TMST I will be discussing paranormal creatures.
Wednesday: Undeadly by Michele Vail Tour Stop Review and Giveaway
Thursday: Review, Guest Post and Giveaway for Abby Slovin's Letters in Cardboard Boxes. 
Friday: Friday Forecast
Saturday: The Lost Prince by Julie Kagawa Review
As you can see another busy week! Hope you will stop in! Thank you for visiting today. Don't forget to get your Fire and Ice spot! Welcome back!