The Sunday Post is a weekly post hosted by Kimba the Caffeinated Reviewer. It is a chance to share all the news and highlights on your blog for the past and upcoming weeks. Head over to Kimba's for details and to link up!
First I want to thank Veronica@Mostly Reviews for my new Sunday banners. Thanks Veronica they are great!
Whew! This past week was a wild and crazy ride. Very stressful at times and scary, but also full of lots of kindness and support. Life is certainly filled with bumps and we hit one! Thanks to all of you for your comments and emails. I am happy to report the crisis is passed and that life should be returning to normal next week. Yeah! 
I ended up taking an unexpected blog break Monday and Tuesday so I had to shuffle the schedule. I didn't get around the blogosphere as much as I would have liked, either, but I did run across a post that I really recommend:
Rummanah@ Books in the Spotlight does a feature called Challenged every so often on banned books.  She reads and reviews a book that is on the banned book list and then discusses why it is banned and how she feels about the reasons given for putting the book on the banned list.  I am not a fan of banned books and I appreciate her bringing the books to my attention.  She is considering doing this as a full time meme, I hope she does. Be sure to check out her post!
Don't forget: Fire and Ice will be starting in two weeks! It is going to be a fantastic month of giveaways and posts so get a spot!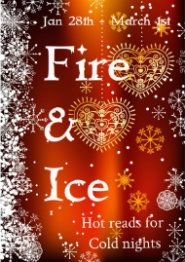 This past week on the blog:
Monday and Tuesday: Blog Break dealing with personal issues
Wednesday: Splintered by A.G. Howard: Five Star Review
Thursday: Dust Girl by Sarah Zettel: Guest Post, Review and Giveaway
Friday: Friday Forecast
Saturday: Tour Stop for The Essence (The Pledge #2) by Kimberly Derting 
 For review I received:


I am so excited for these books! A huge thanks to the publishers for this awesome titles!
No purchases or freebies (See I really am trying to control the TBR).
Next week on the blog:
Monday: From What I Remember by Stacy Kramer and Valerie Thomas: Guest Post, Review and Giveaway
Tuesday: Guest review, guest post and giveaway for The Black Shard by Victoria Simcox
Wednesday: Review of Mrs. Lincoln's Dressmaker by Jennifer Chiaverin
Thursday: Wanderdust Review, Guest Post and Giveaway by Michelle Warren
Friday: Friday Forecast
Saturday: Into the Woods by Kim Harrison Review
Quite and eclectic mix, I must say. 
I hope you all have a wonderful week. I will see you back next week!