The Sunday Post is a weekly post hosted by Kimba the Caffeinated Book Reviewer. It is a chance to share all the news and highlights on your blog for the past and upcoming weeks. Head over to Kimba's for details and to link up!
Happy Weekend! I hope you all had a great week. We are having some sunny weather, although it is still a bit cold, I am always happy to see the sun. This past week was a bit quiet for me, thankfully, as I am gearing up for Fire and Ice. This is one of your last reminders to join in! If you don't do a post, that is fine, just stop by all the great stops and enter the giveaways during the month. You can't win if you don't enter, right?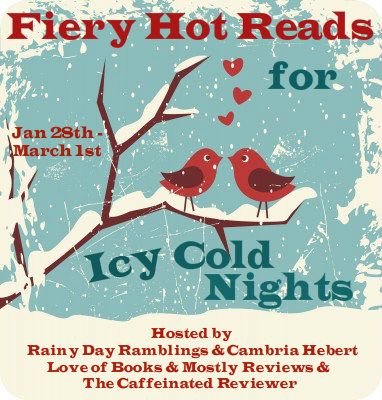 I have to admit, I didn't run across anything spectacular during the week. What about you all? See anything good in your travels across the blogosphere? 
This past week on the blog:
Monday: Review, Guest Post and Giveaway: From What I Remember by Stacy Kramer and Valerie Thomas.
Tuesday: Guest Interview and Guest Review with Katertot for Victoria Simcox's The Black Shard and Giveaway. Be sure to check out this young aspiring blogger. So fun! 
Wednesday: Mrs. Lincoln's Dressmaker Review
Thursday: Teeth by Hannah Moskowitz Review. This just wasn't a book for me. I am still shuddering over how Teeth came to be.....
I also kicked off Dreaming of Books Giveaway Hop
Friday: Friday Forecast Did you see all the awesome books coming out next week? 
Saturday: Review of Kim Harrison's Into the Woods
For Review I received:
A big thanks to the wonderful publishers: Sourcebooks, Tor, Harlequin and Simon and Schuster and author Cambria Hebert for these awesome books!
I bought a $.99 book:

Finally, I had a lucky win streak: 
Thanks to Ali@My Guilty Obsession. 
And a Tirade Prize Pack from Author Cambria Hebert!
Next week on the blog:
Monday: Cover of Snow by Jenny Milchman
Tuesday: The Return of Tell Me Something Tuesday

Wednesday: Postponed due to illness: Wander Dust by Michelle Warren Guest Post, Review and Giveaway
Thursday: Kim Harrington Interview, Giveaway and Review of The Dead and the Buried.
Friday: Friday Forecast
Saturday: Dance of Shadows Review
Thanks for stopping by! Have a wonderful week!