The Sunday Post is a weekly post hosted by Kimba the Caffeinated Reviewer. It is a chance to share all the news and highlights on your blog for the past and upcoming weeks. Head over to Kimba's for details and to link up!
Wow! We are just a few days out from Thanksgiving! Can you believe the holiday season is already here?  Are you hosting company? Planning on going out shopping? This year we will be without company for the first time in four years. I am sad to not have my family visiting, but on the other hand a nice quiet four day weekend will be nice.  
This past week was busy.  I am still in the midst of organizing Fire and Ice.  All the emails and such are time consuming but the end result will be worth it. I am so excited about the authors and books I will feature in February.  Be sure to get your spot.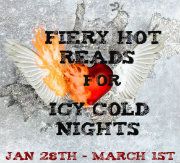 Around the blogosphere I ran across a post by one of my favorite bloggers, Jenny@Supernatural Snark. If you haven't met Jenny, you are missing out! She writes the most amazing reviews! This past week she had a review from her mother ad mother-in-law. So much fun!
For review I received (shh! Don't tell Christy!)
Yeah, I know I slipped....Sigh....
Here on Rainy Day Ramblings I had a good week.
Monday: Tour stop review and giveaway for Stephanie Thomas' Luminosity.
Tuesday: I discussed on TMST how I am burned out on vampires and shared some of my paranormal favorites. What are yours?
Wednesday: Tour Stop Review and Giveaway for Undeadly by Michele Vail
Thursday: A must see post from Abby Slovin author of Letters in Cardboard Boxes along with my review and a giveaway!
Friday: Friday Forecast
Saturday: Contest winners announcement for Something Wicked and Rainy Day Ramblings One Year Blogoversary Box of Books Blowout Giveaway! Don't miss this one!
This next week on the blog:
Monday: Picture the Dead by Adele Griffin and Lisa Brown, Review, Interview and Giveaway and Week Three of The Charade Read Along
Tuesday: TMST: I will discuss Black Friday Shopping, what are your thoughts? Love it or hate it? 
Wednesday: Ironskin Guest Post by Tina Connolly Review and Giveaway!
Thursday: Thanksgiving....I will kick off early The Black Friday Book Bonanza
Friday: Friday Forecast
Saturday: Postponed from last week Julie Kagawa's Lost Prince Review.
Have a wonderful week and enjoy the holiday!