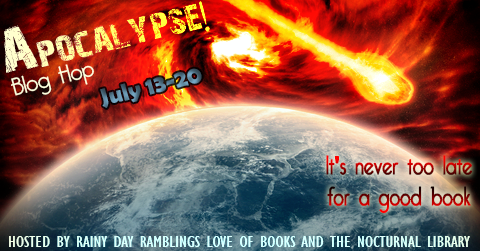 The Apocalypse is here! I hope you have plenty of good books stored up to get you through!  Apocalypse! kicks off now with a eight day blog hop giveaway event!  There are over sixty blogs participating in Apocalypse! and they are all offering their own apocalyptic giveaway. Be sure to visit all the blogs on the list and enter to win! 
Here on Rainy Day Ramblings, I am offering a chance to win a $15.00 gift card to Amazon where you can purchase the apocalyptic/dystopian read of your choice! 
Be sure to let me know what some of your favorite end of the world books are.  
a Rafflecopter giveaway
During the next eight days, I along with my two fabulous hostesses, Christy and Maja, will be featuring author guest posts and apocalyptic giveaways.  We all three have some terrific line ups.  See the full schedule on the Apocalypse! Page. You can participate daily by linking up your apocalyptic reviews and giveaways starting on Saturday July 13th.  
Here are the books you will see this week on Rainy Day Ramblings with guest posts and giveaways!
Enjoy the Apocalypse! Remember it is never too late for a good book! Thank you to each and everyone of you for joining the Apocalypse!
Here is the list of participating blogs: