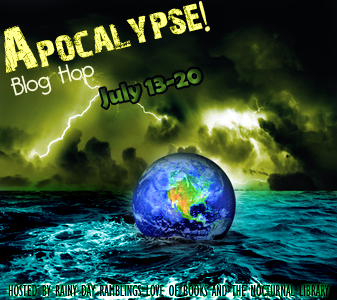 Welcome to the First day of Apocalypse! The first day is often the most terrifying as the
world is hit by some horrific event.....whether it be a plague, zombies, earthquakes, fire, aliens... the list goes on and on.  What is sure to happen is mass panic as people scramble to try and make sense of the disaster.  This is the time when your true character will show.  What type of survivor are you?  Will you help others? Hunker down gather supplies and wait it out? Panic? Hide under the bed? I hope we never find out!!
For the
first stop on The Apocalypse Tour we are going to encounter a worldwide pandemic.  People are dying from an unknown viral infection, there is no cure and it is spreading like wildfire.  In an attempt to save humanity, the U.S. has deep underground bunkers or PODS where they will sequester away a select portion of the population.  Can you imagine?  This is the scenario of Michelle Pickett's PODS.  I am excited to welcome Michelle here today to share with you survival tips from Eva's point of view.  Please meet Michelle:

I'm a wife, mother, author, reader, although not always in that order. I've been an avid reader since a young child. I began writing for personal enjoyment in college, where I graduated Summa Cum Laude with a degree in accounting. Why I chose a degree that didn't encourage creativity is a mystery to me.

I'm addicted to Reese's peanut butter cups and eat way too many while I write. I have a weird obsession with hoodies and can't write without wearing one. I hate to cook, but love to watch cooking shows. 

I'm an unabashed romantic and love swoon-worthy happy endings that give me butterflies for days.

Born and raised in Flint, Michigan, I now reside in a small community outside Houston, Texas with my incredibly supportive, not to mention gorgeous, husband, three amazing school-aged children, a 125-pound lap dog, and a cat that thinks she's queen. I write adult and young adult Sci/Fi, urban fantasy and paranormal romances. I love to hear from readers and other authors, so drop me a note and say "Hi!" You can visit Michelle on her website, Facebook, Twitter, Pinterest and Goodreads.

 
Here is Eva to tell you how to survive in PODS......
How To Survive The PODs
By: Eva, as told to Michelle Pickett
I don't think there's any one "right" way to survive living in the PODs. Everyone has their own coping mechanisms. I spent a lot of time writing in my journal or reading, both let me immerse myself in a different world than the one I was living. So I guess that's lesson one. Find something to transport your mind somewhere else, even for just a while. A good book could transfer me to a world that wasn't screwed up like mine. One that still made sense, where teenagers weren't forced to leave their families behind to die while they were shipped off to live in an underground hamster hotel. 
People who've heard my story have said I seemed to forget about my family and friends after I entered the PODs. HA! If they only knew. There wasn't a day that my heart wasn't torn in two thinking of what my parents were going through. I'd begged to stay with them. I didn't want to leave, but they forced me. I'm not sure if I love them or hate them for that. But my dad promised to go to an old cabin on a lake where we used to spend our summers when I was a kid. They're supposed to wait out the virus there. I hope he kept his promise. Maybe one day I'll see them again. Maybe…but it's best not to get your hopes up too high about things like that. The virus was cruel, wicked. It didn't care if you had family you loved. It'd kill just the same.  So I guess that's lesson number two. Don't get your hopes up. Things up top are dead. Learn to deal. It sounds harsh, but sometimes it's better to give yourself closure than hope, you know? No, I guess you wouldn't know, would you?
I was lucky I was in the sub-POD I was in. I'm sure others weren't as lucky. I had Tiffany. She was like a lifeline for me. We had an instant connection. Talking and joking with her helped tremendously. And then, of course, there's David. Some people have said we had an "insta-love" relationship. Whatever. David and I just fit. People can understand it or not. But there it is. So lesson three, try to find someone you connect with. We all need someone to talk to. Otherwise we'd end up like Josh. Scary thought, huh? 
So, there are my three strategies for surviving living in the PODs. Like I said, there really isn't a lot I can tell you. Everyone is going to have different answers because we all have different coping skills. I mean, look at Katie. She drew on the walls of our sub-POD. Her art kept her occupied. Different things work for different people.
The real question is…how to survive outside the PODs. That's when it gets interesting. And deadly.
There are four rules to living life outside the PODs: 
Stay in your group. Safety in numbers, right?
Don't touch their blood it stings like a mofo.
Leave no survivors. Period.
And, whatever you do, Do Not Get Bit. If you do, it's all over. 

Thank you so much for having me on your blog and for asking me to participate in your special apocalypse event! I've enjoyed talking to you about life in the PODs. I'd love to answer your questions; just leave them in the comments and I'll answer. 
 Evangelina Evans
(As told to Michelle Pickett, author of PODs)
A big thank to Michelle for helping me kick off Apocalypse! Michelle is offering a chance to win a copy of PODS.  To enter please read the Contest Policies and fill out the Rafflecopter. Michelle is generously making this giveaway International!  I hope you check this one out, it is one of the best dystopians I have read for 2013!
a Rafflecopter giveaway
Here is my review:
PODS (PODS #1) by Michelle K. Pickett
Seventeen-year-old Eva is a chosen one. Chosen to live, while others meet a swift and painful death from an incurable virus so lethal, a person is dead within days of symptoms emerging. In the POD system, a series of underground habitats built by the government, she waits with the other chosen for the deadly virus to claim those above. Separated from family and friends, it's in the PODs she meets David. And while true love might not conquer all, it's a balm for the broken soul.  After a year, scientists believe the population has died, and without living hosts, so has the virus. That's the theory, anyway. But when the PODs are opened, survivors find the surface holds a vicious secret. The virus mutated, infecting those left top-side and creating... monsters. Eva and David hide from the infected in the abandoned PODs. Together they try to build a life--a new beginning. But the infected follow and are relentless in their attacks. Leaving Eva and David to fight for survival, and pray for a cure. Paperback, 312 pages
Published June 4th 2013 by Spencer Hill Press
Source: Around the World Tours in exchange for an honest review

 
Four stars: A gripping dystopian that kept me turning the pages.  
Eva senses something isn't quite right when she comes home to find her parents whispering and hurriedly trying to shut off the television.  They even order pizza on a Tuesday night and insist on a family game night.  The next day, Eva learns the reason for their strange behavior.  There is a world wide pandemic, a virus is spreading and killing and there is no known cure.  This could be the end of civilization.  The president informs the country that the U.S. has some underground habitats that will keep a select part of the population safe until the virus dies or a cure is found.  Eva's phone rings and she is chosen to live in the PODs.  Will Eva ever see her parents again? Will she survive the virus? Will the world's population be wiped out? 
What I Liked:
This is a chilling dystopian that terrifies because it could really happen.  Today in our modern world, it seems there is a new virus or bacteria that ravages through a population killing hundreds before it is stopped.  So the likelihood of a worldwide viral killing pandemic isn't too hard to believe.  I enjoyed the sense of realism this book brought throughout the majority of the story.  The panic of a being infected, the pain of parting with loved ones possibly for good, the frightening prospect of quarantine and living underground for a year and then resurfacing to find an entirely new world.  This book has a lot to offer!
I enjoyed the many emotions that I felt while reading this.  The terror, and then the pain and sadness of goodbyes, and then the idea of being cooped up in a small space for over a year with strangers, and finally the happiness at the connections and a blooming romance.  
This book is fast paced and it doesn't let go until you reach the end.  This is one of those reads that once I started I couldn't put down because the story line is so gripping.  If you haven't read a good dystopian in awhile, definitely consider this one. 
World building.... normally I would complain about the lack of information in this one such as wanting to know more about the virus, the symptoms, and what was happening in the other PODs and how the government managed to organize and pull everything off.  However, the author utilizes a strict first person view point, so basically I knew only as much information as Eva.  It made it far more realistic to be blinded because in reality, an average citizen would be completely in the dark when it came to big government decisions and all that. Not to mention, no one would have a clear idea of what happened after the plague because lines of communication have ceased.  So I fumbled in the dark right along with Eva and I was okay with that.  
The romance is simple and believable.  Eva falls in love with one of her POD mates despite her repeated attempts to tell herself it is not a good idea to get in involved with a roommate.  The romance unfolds realistically when two people after living together for months cut off from the world aside from the other seven roommates.  It isn't an insta love and there are no love triangles.  It is simple and straightforward.  Granted, there are a few bumps in the road and you agonize wondering how it will all work out. 
I liked that this book draws to a satisfactory conclusion. There is not a cliffhanger  surprisingly, but the author does leave plenty of unanswered questions and you are left wondering how society will rebuild.
And The Not So Much:
My biggest complaint is that the synopsis provided pretty much gives away the entire plot.  There aren't really any huge surprises.  So I was a bit disappointed that I knew how things were going to pan out.  Best advice, if you can avoid reading the synopsis before reading this, do so, it will make the adventure much more fun!
While I was okay with the lack of details as far as the world building goes because I appreciated that I was thrown in blind just like the main character was under the circumstances, but I thought that there could have been a bit more details on the virus such as a more thorough description of the symptoms and how the people succumbed.  I also thought there should have been better descriptions as far as the PODs went.  I was never clear on how big the individual sub-PODs were, how many rooms, and the complete layout.  For instance, I found out later in the book there was a separate laundry room, and storage room.  Having Eva take a full tour and have each room detailed would have made it better.
Once you hit the final quarter of the book, things take a bit of a turn and it loses believability.  The PODs open and it turns out there are survivors topside as well as mutant infected who are basically like zombies.  Even though it was scary and fun, I was a bit sad that it wasn't as realistic.  Furthermore, I wished there had been more information on the surviving population who weren't in the PODs.  How did they manage to not get the plague?  What was their existence like?  
Finally, the book ends very abruptly.  David and Eva are in a fight for their lives and all of a sudden everything is okay and there is a sort of happily ever after.  While I appreciated that I got a satisfactory conclusion, I wished that it hadn't been so quick.  It felt a little abrupt in comparison with the pacing of the rest of the book.  This is not a major factor just a personal observation. 
PODs is a gripping and terrifying read that explores the possibilities of a world wide killing pandemic. It is a frightening read as you ponder what you would do if you were forced to choose between staying with your family  or heading to the safety of a POD knowing your family will likely die.  If you enjoy a fast paced dystopian with a more realistic storyline, definitely give this one a go.  It is one of the best dystopians I have read to date in 2013. 
Favorite Quotations:

"None of us were typical teenagers anymore---that reality had ended the day we'd gotten on those grimy yellow school buses.  Leaving our families, our friends---everyone we'd ever known and loved---was hard enough.  Leaving them to die was quite different.  We'd had to grow up quickly.  We weren't at summer camp; we were fighting to stay alive---to keep the human race from extinction.  That was a lot to bear."

"Another reason I knew it wasn't a crush---a crush is like a match to gasoline; it flares quickly."
I received a copy of this book courtesy of Around the World Tours in exchange for an honest review.  
Don't forget to check out the Apocalypse Blog Hop going on now! If you want to share your own Apocalyptic Posts and giveaways link up!
See you back on Monday for another Apocalyptic Stop: Dark Inside by Jeyn
Roberts!