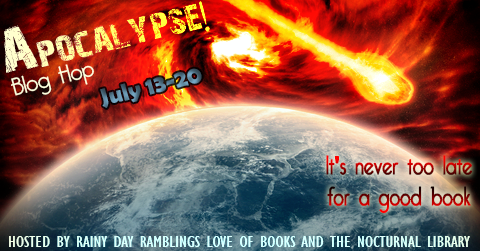 The nightmare is still ongoing! Welcome to Day 4 of the Apocalypse! Supplies are getting scarce people are terrified...  What frightening fates await us today?
Here are the stops:
Maja@ The Nocturnal Library: Tim Marquitz: The Demon Squad
Christy@ Love of Books: Megan Crewe: Fallen World Trilogy
My Shelf Confessions: The Fury by Alexander Gordon Smith

Today we are taking a frightening look at cloning.... Imagine a world where clones are made for the purpose of harvesting body parts. Scary right, especially if you are the clone. It is always frightening to think of what our technology can do if it backfires or falls into the wrong hands! I have Heather Hildenbrand author of Imitation to take us through this terrifying world.  Before we get started, let me introduce you all to the fabulous Heather Hildenbrand!
Author of Across the Galaxy, Whisper, Imitation and the Dirty Blood series. I write, read, and fuss at my kids. Oh, and I do laundry, lots of laundry. I'm pretty good at it, too. Sometimes I even read WHILE doing laundry - and fussing at my kids. I'm a multi-tasker. 

For more information on my books, release dates, or just general stalker material, um, I mean FAN material, visit me on my website, twitter, Facebook, and Goodreads.  I love hearing from readers! 

Likes and dislikes? I love vintage tees, hate socks with sandals, and if my house was on fire the one thing I'd grab is my DVR player!
Seriously, Heather is a fabulous indie writer whom you should be reading!
Here is Heather:
How would I survive in Imitation through an Apocalypse?
Imitation is set in a future version of our world where technically an Apocalypse of sorts has already happened. It's not a war fought with guns and bullets, although a lot of that has happened, too. It's a digital apocalypse. Wars are won and countries taken down by hackers and stolen bank accounts. You think our deficit is bad now? You have no idea. 
In this world, new powers arise and governments are built out of those who've survived their retirements being wiped. Science research facilities and private corporations funded through charitable donations were some of the only groups that weren't touched by the digital eraser. Imagine how that would change our world.
And then realize how possible it is. 
Scary!
Now, if a second apocalypse happened in this world, say one fought with automatic weapons by an invading army, I would definitely have a better chance of surviving by being rich. The rich are the untouchable, the golden or chosen ones. The poor are the sacrifices. I would do whatever it takes not to be poor in that world. And in doing so, I would be required to dress like this:
#Outlandishbutnecessaryforsurvival
Thanks, Heather!  I would love to see you wearing that bubble dress! What do you all think of cloning? Is it man playing with fire or is it something that can be potentially good? A lot to think about! To further your thoughts, Heather is offering up a chance to win an ebook copy of Imitation.  This is open to everyone.  Just fill out the Rafflecopter after reading Contest Policies! Good Luck!
a Rafflecopter giveaway
Here is my review:
Imitation(The Clone Chronicles #1) by Heather Hildenbrand
Everyone is exactly like me. 
There is no one like me. 
The rough fabric of my cotton nightgown chafes so I lie very still. They say my discomfort comes from being built like one accustomed to niceties. How is that fair when I myself have never experienced anything but copies of the real thing? My entire life is an imitation. I am an Imitation. I've been here five years. Training. Preparing. Waiting.And now I have a letter.My assignment has begun. I am a prisoner.I am not Raven Rogen.I am here to die. 
ebook 
Published March 12th 2013 by Accendo Press
Source: Purchased
 
Four stars: A frightening futuristic world where man plays God with clones!
Ven settles into her small bunk, but sleep eludes her.  Ven is an imitation, a clone who resides in Twig City with all the other clones.  Once a clone receives a letter to visit Marla, their life in Twig City is over.  As a human copy, Ven could be used to harvest body parts or she may need to take the place of her human counterpart, but one thing is for certain usually it means death.  Ven can't sleep because today she got that letter.  Is she about to die?
What I Liked:
Ms. Hildenbrand presents a chilling, dystopian future in Imitation.  Society has crumpled from a cyber hacking.  Overnight, all the bank accounts and monetary wealth were pretty much wiped out.  Fortunes were lost, existences ruined, and economies toppled.  After the dust clears, there are two emerging classes: the wealthy and the poor.  The rich are constantly plotting and scheming to grab power, even if that means resorting to the use of clones.  I liked this frightening future because it is realistic and it could very well happen.  With one giant computer virus, life as we know it could crash....a lot to ponder. Then add in the ethics of clones.  Just because a clone is a human copy does that make them any less human?  Is it right to grow a human being only to use them to harvest or as a sacrifice? 
I enjoyed Ven's voice.  Ven's voice is perfect in that it is a bit robotic and it lacks a lot of feeling and emotion. I thought Ms. Hildenbrand nailed the writing style because it reflects someone who has lived a life without the benefit of everyday human emotion.  Even though Ven has spent her entire life as a clone, groomed to step in and fit the needs of her human counterpart, I liked that over time she begins to take some shaky steps toward growth, especially as she experiences powerful human emotions such as love and hate.  I enjoyed watching her take advantage of the human experience. 
I liked the romance in this one.  It is slow burning, hesitant and it is built on trust and friendship.  It definitely takes awhile before both parties completely trust each other, but once they do, the magic begins.  There are no love triangles and no insta love in this one.
This novel has a complex plot and it is full of twists and surprises.  You are constantly guessing the motives of everyone and it is apparent that Ven can trust no one.  Her captor or pseudo father is especially diabolical and frightening.  There is a lot to keep track of and I enjoyed the ride. 
And The Not So Much:
While I enjoyed the world building, it was a tiny bit shaky. I wanted to know more about how the rich rose to power.  Were they in on the computer hacking?  How did people survive in this new world?  How did a wealthy person go about getting a clone?
The book ends abruptly, it isn't a cliffhanger, but it is one of those endings that reveals a few answers and then it just cuts off with a to be to continued ending.  I was wanting a bit more resolution.
I was a bit confused over the clones.  For instance, Ven runs across a male human whose clone in Twig City is female.  I wanted to know why a male human would have a female clone?  Furthermore, I was not clear on what age the clones were when they awoke, were their ages the same as the current age of their human counterpart? 
Imitation is an interesting and chilling look at a futuristic society where man is playing God by creating clones in his own likeness.  It is a world where fortunes have been made and lost thanks to computer hacking.  I liked that this book had a realistic feel and that it was different from most of the current mainstream YA dystopian books.  Ms. Hildenbrand is a skilled and talented indie writer, whom you need to be reading! 
Favorite Quotations:

"They say my discomfort comes from being built like one accustomed to niceties.  How is that fair when I have never experienced anything but copies of the real thing?  My entire life is an imitation.  I am an Imitation."

"Authentics---humans---are so much more than we are.  More feeling, more depth, more life.  And yet these people look dead inside, barely any speck of light shining through."

"I find a refrigerator stocked with bubbly water that sighs when you twist open the lid and some sort of creamy frozen treat in the freezer.  The box says "ice cream," though it tastes nothing like ice I've ever had."

"Everything is a game here.  I don't feel like I play very well."

"I have to admit, the dress is magnificent.  The way the fabric hangs and glitters makes me feel as if a waterfall is being poured over me at every step."

 
I purchased a copy of this book.  All opinions are my own and I was not compensated for this review.
See you back tomorrow for a visit with the Amish and deadly vampires in Laura Bickle's
The Hallowed Ones! 
Be sure to link up your own Apocalyptic posts!