The Sunday Post is a weekly post hosted by Kimba the Caffeinated Book Reviewer. It is a chance to share all the news and highlights on your blog for the past and upcoming weeks. Head over to Kimba's for details and to link up!
Happy Weekend! I hope you all had a spectacular week. We have had more perfect weather here in Oregon. Lots of sunshine and warm temperatures, not too hot.  I wish I could bottle up some of these summer days and use them for winter.  
Hopefully, you all had a good week as well. 
This past week around the blogosphere it was a little quiet again, I think everyone is enjoying vacations and sunny days. 
There a few notable events: 
Kimba will once again be hosting her Things That Go Bump in the Night Event where she will be featuring reads perfect for Halloween.  
The gals over at My Shelf Confessions have their big Vamps vs. Zombies event starting the first of August!
The Summer Giveaway Hops have started. Watch for the Road Trip Hop the first part of August.
Finally, Something Wicked Returns! I am so excited to be hosting this fun event again this year, and this time around I have three spectacular co hostesses. See all the details here, sign up and grab a Wicked button for your blog. 
This past week on Rainy Day Ramblings:
Monday: Review of The Lost Husband by Katherine Center
Tuesday: Tell Me Something Tuesday: To Tour or Not to Tour: Candace stopped by and guest posted and Something Wicked Returns announcement. Don't miss this post!
Wednesday: Review: Dirty Little Secret by Jennifer Echols
Thursday: Review: The Distance Between Us by Kasie West
Friday: Indelible Tour and Giveaway and Friday Forecast
Saturday: Left Drowning by Jessica Park
You can still enter some of the Apocalypse Giveaways!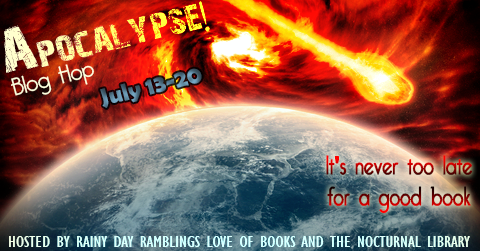 For Review:
Freebie:
Next Week:
Monday: Review: Indelible by Dawn Metcalf
Tuesday: TMST: I Want to Win: Hosting Giveaways Tips
Wednesday: Guest Post, Review and Giveaway for Cambria Hebert's Charmed
Thursday: Review: The Time Between Us by Tamara Ireland Stone
Friday: Friday Forecast
Saturday: Review: The Original 1982
Have a terrific weekend! See you back next week!